Create an event HTML calendar for your website in minutes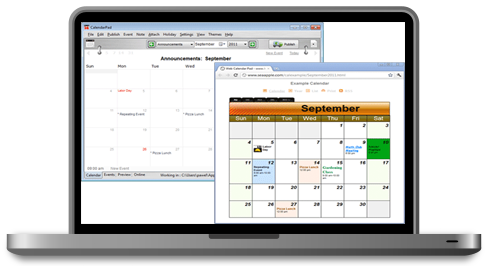 Website Calendar Pad
Promote your events on a Monthly Calendar
Attach files and documents to your calendar
100+ Calendar Styles to choose from
Publish directly to your website, or we can host your calendar
No monthly fees, buy the software from $69
Works with Windows 7,8,10
---
You may also be interested in Pin Calendar our online calendar software.
---


Calendar Pad Is a windows program you can use to make a website calendar for your business, church, school, or team. You can use the program to design the calendar on your local computer, and then publish it online to your website. Thousands of websites use calendar pad for their calendars : Some google examples
Full Page Calendar : E xample Calendar Theme Pack : E xample 1 | 2 | 3 | 4 | 5 | 6

---
About the Software
Calendar Pad is an easy to use windows program for publishing an event calendar on your website.

Features:
A Monthly Large Calendar
An Event List
A Small monthly calendar (easy to show on the side of your website)
A scrolling list of upcoming events
A yearly calendar, showing small monthly calendars with events
An RSS feed of upcoming events
Special formatting to aid in printing the calendar
Built-in FTP for uploading the calendar to your website
Optional cloud hosting for your calendars on our website
Support for saving and editing multiple calendars
Links in and uploads your file attachments in your events
Repeating events (daily, weekly, monthly)
Combining multiple categories in one calendar


No programming required, databases to install and maintain. Simply download and install the program on your windows computer. Add events, pick a calendar style and publish. You can attach pictures, documents and pdf files like you do with email. Makes a perfect calendar for a business, school, church, club, organization or team. You can show the calendar on a separate page, or show it in a window on your web page, fitting in with your design.

Academic Calendar for Teachers and Educators
If you work as a teacher or a professor at college you can use Calendar Pad to keep your class website online in a calendar format. The program makes it easy to post homework and attach assignment files. At anytime you can update your web site with one click. Your students can view the web page, print or even subscribe to their class calendar with an RSS reader. The best part is that the information is presented in a calendar grid, with external documents, project handouts and external files attached right into the calendar. You can post only the months you need. And if you teach multiple classes, Calendarpad can keep separate calendars for each class or course you teach.

The tabbed menu makes it easy for students to browse and take note of due dates for assignments and tests. Parents can check up on their kids homework from home. This is especially useful if their son or daughter is sick or away from school, and it saves you time from having to send the homework home.
You also have the option of publishing a combined calendar that lists all your classes in one grid. >

Calendar for Church Events
Calendar Pad has been used to keep many church HTML calendars online. Because the program runs like a regular windows desktop calendar application, it's easy to add recurring Events such as Sunday Mass. When you are ready to publish, Calendar Pad will generate all the html files automatically and transfer the calendar to your website. You can choose from church specific calendar styles, or you can easily create a custom calendar that matches the look of your web site.
Awards
Here are some of the awards that Web Calendar Pad has received.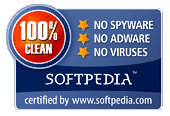 Note: graphic depiction of box for display purposes only

© SeaApple Software