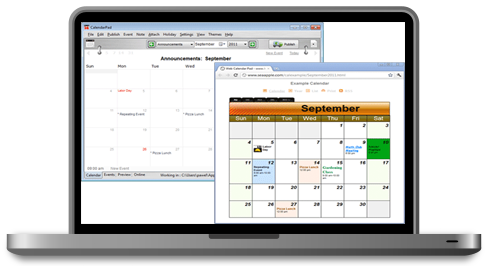 Website Calendar Pad
Promote your events on a Monthly Calendar
Uploads files, documents, graphics and anything else you add to your calendar
100+ Calendar Styles to choose from
Publish directly to your website, or we can host your calendar
Free 30 day Trial.
No monthly fees, buy the software from $69
Works with Windows 7,8,10
---

or

Embed The Calendar on Your Webpage
Makes a Scrolling List of Events


Show Upcoming Events
Web Calendar Pad is an easy to use windows program for publishing an event calendar on your website. Calendar Pad publishes directly from your windows desktop to your website using standard FTP (File Transfer). No online databases to install and maintain, no programming required. Simply add events, pick a calendar style and publish online. You can also attach pictures, documents and pdf files like you do with email. Share files online in a stylish and practical calendar format that website visitors can subscribe to with RSS. Makes a perfect calendar for a business, school, church, club, organization or team. You can show the calendar on a seperate page, or show it in a window on your web page, fitting in with your design. All the calendars and the scroller on this web page are embeded (using an IFRAME window)

What makes our calender software special?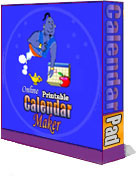 Best looking online calendars anywhere ... Choose from over 100 styles or create your own. No need to battle scripting code ever again. You can choose the calendar from a template or easily create your own custom look that can include photos, backgrounds, and custom fonts. The calendar can be easily linked to, embedded, or popped up from your website because calendar pad uploads standard html files to your web server.

RSS Feed Visitors can subscribe to upcoming events using and RSS reader.
Store Files in your Calendar! Easily add pdf files and documents relevant to a calendar day. For example, if you have a project do on June 5th, you can pdf description of the project. Calendar Pad will upload the file for your



Easy to update! Builtin FTP makes updating your calendar easy. It transfers your file attachments too.

100+ Templates Choose a pre-designed calendar template or create your own. Perfectly match the look of your web site

Organize and Unify. You can keep your calendar data organized by subject in up to 30 different categories, and then selectively unify to preview and publish. For example, create a calendar for home, a different one for school, a third for work, and so on.

Desktop Publishing Imagine a Calendar program for publishing calendars online that allows you to add events and format the calendar on your Desktop. The calendar saves to a .cal file that others in your company can edit.
Awards
Here are some of the awards that Web Calendar Pad has received.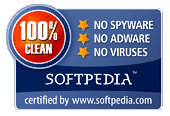 Note: graphic depiction of box for display purposes only